Drive testing is a method of measuring and assessing the coverage, capacity and Quality of Service (QoS) of a mobile radio network.
The technique consists of using a motor vehicle containing mobile radio network air interface measurement equipment that can detect and record a wide variety of the physical and virtual parameters of mobile cellular service in a given geographical area.
By measuring what a wireless network subscriber would experience in any specific area, wireless carriers can make directed changes to their networks that provide better coverage and service to their customers.
Drive testing requires a mobile vehicle outfitted with drive testing measurement equipment. The equipment are usually highly specialized electronic devices that interface to OEM mobile handsets. This ensures measurements are realistic and comparable to actual user experiences.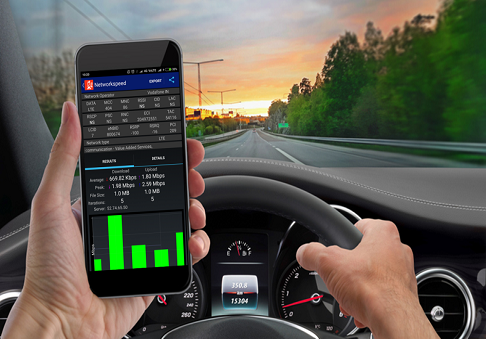 Data collected during drive testing
Drive test equipment typically collects data relating to the network itself, services running on the network such as voice or data services, radio frequency scanner information and GPS information to provide location logging.
The data set collected during drive testing field measurements can include information such as:
Signal intensity
Signal quality
Interference
Dropped calls
Blocked calls
Anomalous events
Call statistics
Service level statistics
Quality of Service information
Handover information
Neighboring cell information
GPS location co-ordinates
Types of drive testing
Drive testing can broadly be categorized into three distinct topics:
Network benchmarking.
Optimization and troubleshooting
Service quality monitoring.
The result produced by drive testing for each of these purposes is different.
Drive testing can be conducted at any time on a live network and very rarely will there be any network intrusion.